Custom Printed Vinyl Zipper Bags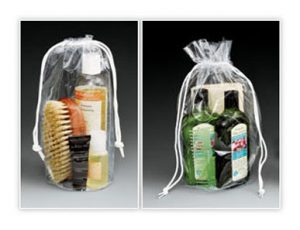 Custom Printed Vinyl Zipper Bags
We set the bar when it comes to custom vinyl zipper bags, making a tremendous product that you can get for a great price with our wholesale options. There's no need to even consider other printed vinyl zipper bags wholesale distributors, as our bags are:
   Durable
   Reliable
   Secure
   Lightweight
   Cost-effective
   Well-constructed
We give you everything that you've been looking for, and we'll be more than happy to take on custom orders.
Custom Designs
So, what do those custom orders get you? When you choose us over other custom vinyl zipper bags wholesale distributors, you have full control over many aspects, such as:
   The size of the bags
   The type of zipper used
   The printed design
   The color scheme
   How many units you need
Getting custom vinyl zipper bags means you really get exactly what you set out to buy, not just the option that was deemed to be "close enough." We want to make sure that you're happy with the whole process, and we know this means we have to go beyond the other printed vinyl zipper bags wholesale distributors and give you exactly what you're looking for.
Accurate Printing, Friendly Customer Service, and Quality Products
It's all about flexible packaging supply and plastic bags…that's all we do. You will find our service personal, friendly and focused on meeting your flexible packaging and plastic bag needs.
Give us a call or send us an email and we'll do all the rest!
We understand the importance of a quality image that will become associated with your company, as well as a durable bag for your business to use. The quality of our product is a reflection of your business, which is something you should be proud of.

Our products are made in the United States, and we stand behind the quality of our custom printed bread bags. We are confident the reputations of both our business and yours will be strengthened through our partnership together.
Each and every one of our orders is double checked for accuracy during the printing process and before shipment. We pay attention to all of our orders and immediately notify our customers of any difficulties we may experience.

While quality is extremely important to us, so is our relationship with our customers. Other custom printed bread bags distributors may not feel the same way, but our business is also about keeping you happy!
Working With Us
Another thing you'll love about buying from us is that we're one of the easiest companies to work with. You can get in touch with us quickly, we're friendly and helpful, and every person you talk to is knowledgeable. We have decades of combined experience, as a worldwide company, and it really shows.
If you're looking for experts as you buy printed vinyl zipper bags, there's simply no better number to call.
Flex Pack Product Order Form
To Request an Order to be Placed, Please Fill Out Our Form Below