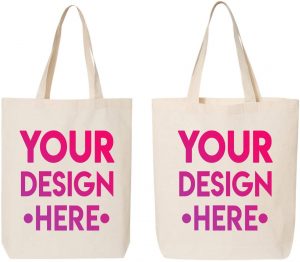 Wholesale Tote Bags without the Wholesale Look
Carrying lunches and snacks

Knitting/crocheting materials
Just to name a few! So why not contact our tote bags wholesale distributors to get your company or organization information out there?
Customized Wholesale Tote Bags for Business and Personal Needs
We are Bulk Wholesale Tote Bags Distributors. Whether you want quality tote bags to give to your customers or clients, to promote your organization at an event or you're looking for a remembrance to give party or wedding guests, our tote bags distributors can help you make them uniquely your own. We offer screen printing as well as embroidery application on one or both sides.
Our tote bags come in a variety of materials, including:
You can choose regular or drawstring handles. You can also choose from a variety of colors, sizes and shapes.
We Make Tote Bag Ordering Easy
Simply choose the style, color and quantity of bag that you want from our website. Then e-mail us your logo or your artwork image file. We'll do the rest. We offer expedited shipping if you need your bulk tote bag order in a hurry.
Our friendly customer service representatives are available via phone, chat and online to answer any questions you have.
Quality Wholesale Tote Bags That Stand the Test of Time
Whether your bags are going to be promoting your business or organization or simply going to be a fun takeaway for party or event guests, they're going to be a reflection of you. That's why we use materials that are made to last and screen printing that will keep your logo or other artwork looking bright and clear even after multiple washings.
Take a look at everything we have to offer. If you have any questions, call us toll-free or contact us online. We look forward to being your source.
Flex Pack Product Order Form
To Request an Order to be Placed, Please Fill Out Our Form Below