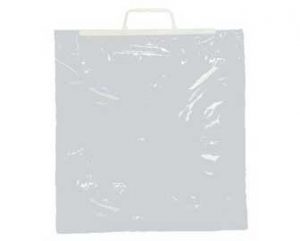 Custom Printed Tote Bags 
Looking to buy custom tote bags? Perhaps you want to display your company logo on the bags, or maybe they're going to be connected to a school or another facility? Perhaps you're looking for them for a wedding or to use as shopping bags? There are tons of options with high-quality tote bags, and we're the best place to call for any of them. Out of all of the printed tote bags wholesale distributors, we give you the best combination of:
  

A high quality product

  

A great price point

  

Fast production and shipping

  

Friendly, helpful service
We do it all, and we hope you'll consider us for all of your tote bag needs.
Design Options
When you order the custom tote bags, there are a few ways to go about it. Perhaps you have the design in mind already. If so, just let us know what you're after, and we'll get started immediately. While other printed tote bags wholesale distributors may have limited options, we give you total creative control.
At the same time, perhaps you're looking for a bit more guidance. Maybe you have a logo, but that's as far as you've gotten. If so, we can sit down with you and walk you through the process, helping you design the ultimate printed tote bags. We can tell you about all of the options and features that you can consider, and we'll guarantee that you'll love the finished product. As noted above, our staff are very friendly, helpful and knowledgeable, so it's relaxing and easy to work with us. We are dedicated to making sure you're satisfied.
Accurate Printing, Friendly Customer Service, and Quality Products
It's all about flexible packaging supply and plastic bags…that's all we do. You will find our service personal, friendly and focused on meeting your flexible packaging and plastic bag needs.
Give us a call or send us an email and we'll do all the rest!
We understand the importance of a quality image that will become associated with your company, as well as a durable bag for your business to use. The quality of our product is a reflection of your business, which is something you should be proud of.

Our products are made in the United States, and we stand behind the quality of our custom printed bread bags. We are confident the reputations of both our business and yours will be strengthened through our partnership together.
Each and every one of our orders is double checked for accuracy during the printing process and before shipment. We pay attention to all of our orders and immediately notify our customers of any difficulties we may experience.

While quality is extremely important to us, so is our relationship with our customers. Other custom printed bread bags distributors may not feel the same way, but our business is also about keeping you happy!
Call Today
We define what it means to be the best of the custom tote bags wholesale distributors. We can give you a free quote and even free samples, so that you know what the custom tote bags will be like before you order. To learn more or to start that ordering process, please call today.
Flex Pack Product Order Form
To Request an Order to be Placed, Please Fill Out Our Form Below