Custom Printed Take Home Bags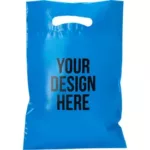 Custom Printed Take Home Bags
Make a lasting impression on your customers with custom take home bags. With our premier printed take home bags wholesale distributors your name or logo is what goes home with everyone at a trade show or public event. In a time where people are reusing more and more thanks to a growing concern for environmental sustainability, your take home bags can be the item they use time and time again.
Customize Your Brand
With take home bags you have the ability to turn a potential customer and passerby into a walking promotional model for your brand. Let our custom take home bags wholesale distributors take your brand recognition to new levels.
Styles Galore – You can choose from many styles and sizes for custom printed take home bags. We have plastic die cut bags to lasting quality cloth bags, whatever you are looking for.

Lots of Colors – Depending on the type of bag, we can create a custom color palette that represents your brand. Cloth bags can have colored handles, bottoms or be cut from colorful cloth. Plastic bags can be printed with pictures or logos, whatever you can imagine.
Samples Available – Want to see what your product will actually look like when it's finished? Ask for a sample! We can send out samples within a few weeks with first-class priority mail.
Any Problems? – If there seems to be a problem or mishap with the order, call one of our team members and we will make sure to resolve the issue right away.
Accurate Printing, Friendly Customer Service, and Quality Products
It's all about flexible packaging supply and plastic bags…that's all we do. You will find our service personal, friendly and focused on meeting your flexible packaging and plastic bag needs.
Give us a call or send us an email and we'll do all the rest!
We understand the importance of a quality image that will become associated with your company, as well as a durable bag for your business to use. The quality of our product is a reflection of your business, which is something you should be proud of.

Our products are made in the United States, and we stand behind the quality of our custom printed bread bags. We are confident the reputations of both our business and yours will be strengthened through our partnership together.
Each and every one of our orders is double checked for accuracy during the printing process and before shipment. We pay attention to all of our orders and immediately notify our customers of any difficulties we may experience.

While quality is extremely important to us, so is our relationship with our customers. Other custom printed bread bags distributors may not feel the same way, but our business is also about keeping you happy!
Our Promise to You
We strive to keep our customers coming back.
We work hard to put your needs and concerns as our top priority and we believe you'll see the proof when you work with us.
Flex Pack Product Order Form
To Request an Order to be Placed, Please Fill Out Our Form Below