Custom Printed Laboratory Bags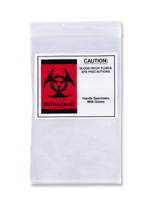 Why Use Custom Printed Laboratory Bags?
By having your laboratory's name, contact information, and logo on your bags, you help ensure that biopsies and other specimens that need to be returned make it back to your lab and not another one. They also provide easy identification in case anyone in your supply line needs to contact you about a sample.
They do more than that. Printed laboratory bags help increase your visibility among your customers and those who work with your specimens.
Custom Printed Laboratory Bags for All of Your Needs
Our custom laboratory bags distributors can meet your needs for:
Specimen transport bags

Biohazard/infectious waste bags

Disposal bags

Storage bags
We offer specimen bags with leak-proof seals that are reinforced so that liquid does not get out during transport.
Our biohazard/infection waste bags include all OSHA-required markings. Our autoclavable bags have a patch that darkens when sterile.
All specimen and biohazard custom laboratory bags:
Are made from low polyethylene

Include an outer pocket to keep documentation separate and protected from leakage during transport

Come in clear as well as amber for transporting light-sensitive samples
Our printed laboratory bags wholesale distributors provide quality bags at competitive prices. We also offer rush shipping as well as automatic reordering. That means that your lab never has to run out of bags for storage, transport or waste disposal again.
Accurate Printing, Friendly Customer Service, and Quality Products
It's all about flexible packaging supply and plastic bags…that's all we do. You will find our service personal, friendly and focused on meeting your flexible packaging and plastic bag needs.
Give us a call or send us an email and we'll do all the rest!
We understand the importance of a quality image that will become associated with your company, as well as a durable bag for your business to use. The quality of our product is a reflection of your business, which is something you should be proud of.

Our products are made in the United States, and we stand behind the quality of our custom printed bread bags. We are confident the reputations of both our business and yours will be strengthened through our partnership together.
Each and every one of our orders is double checked for accuracy during the printing process and before shipment. We pay attention to all of our orders and immediately notify our customers of any difficulties we may experience.

While quality is extremely important to us, so is our relationship with our customers. Other custom printed bread bags distributors may not feel the same way, but our business is also about keeping you happy!
We are one of the most accurate custom printed bags, wholesale distributors, in the country. With an outstanding reputation for providing quality products and friendly customer service, we're sure you will be pleased with our company.
Brand your business with our custom printed bags. Call us today to set up an order!
Flex Pack Product Order Form
To Request an Order to be Placed, Please Fill Out Our Form Below